The aim of the project 4U2 (For You Too) is to secure education and access to nutrition for children living in improvised regions of Bangladesh. After having traveled to Bangladesh in 2009 and 2016, founder Eva Čerešňáková witnessed poverty and the lack of resources first-hand. During her second trip to Bangladesh in 2016, Eva officially inaugurated the newly-built school in Katabari.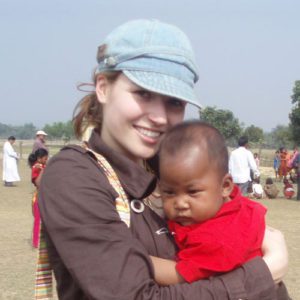 "Until I saw the real living conditions of people in Bangladesh with my own eyes, I could not even imagine what it meant to live in extreme poverty. The day-to-day struggles and reality are unbelievable to Europeans. A small amount of money, which can seem negligible for our standard of living, can immensely assist Bangladeshi children to have access to basic education and food. Access to education for local children will undoubtedly have an immense impact on improving their quality of life and enabling them to have opportunities to work beyond a livelihood dependent on working in the rice fields." 
Eva Čerešňáková
Founder and Vice Miss Czech Republic 2007
At the school, children are taught not only how to read and write, but also a new approach to life – for example to plan for not 10 but rather 2 children in adulthood in order to have enough recourses to secure education and nutritious food for their family.
OUR AIM IS TO COLLECT $50,000 (USD) TO BUILD THE FIRST
ELEMENTARY SCHOOL IN SAINAMARI, BANGLADESH.
TIMELINE FOR THE CONSTRUCTION OF THE SCHOOL IN SAINAMARI